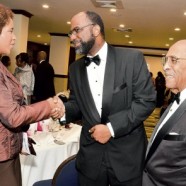 Jamaica Observer
IMPROVING the circumstances of women in Jamaica will benefit all sectors of the society, according to Earl Jarrett, general manager of Jamaica National Building Society (JNBS).
Speaking at the 40th annual Dr Ena Thomas Memorial Fellows Banquet at the Jamaica Pegasus recently, Jarrett said that "women are important agents of change, and an investment in women is by extension an investment in changing the overall outcomes of a nation."
In this regard he said that "a laser-sharp focus on women" would be essential in improving the sexual health awareness of the nation. Jarrett said that one of the key ways of improving sexual health awareness is "to empower and in some instances, reinforce the message to women so that they have the power to make decisions about their sexual choices and health."
Pointing to a 1995/1996 study entitled Sexual Attitudes & Behaviour Among Young Adolescents in Jamaica, Jarrett noted that 40 per cent of Jamaican women have been pregnant at least once before they reach the age of 20 and more than 80 per cent of adolescent pregnancies are unplanned.
He said that "there are many unwanted sex acts, unwanted pregnancies and sexually transmitted diseases", and women in Jamaica should be encouraged to "be active negotiators in their sexual health choices". This would result in less pressure on our health systems due to a growing population and fewer economic challenges in managing and maintaining physically and financially healthier families.
Jarrett called for increased focus on the education of women which he predicted "will have a ripple effect across all facets of life — improved economic circumstances for the family, the education of children, and a general improvement in the social fabric of our society."
He said that looking across Jamaica's professional landscape, "it is clear that some women are making the choice to exercise control over their sexual health and are choosing education as their main priority; making decisions such as pursuing post-graduate studies; delaying having children; home acquisitions and real economic and social decisions that can have an impact on our nation overall and improve the quality of life in Jamaica."
Young girls should also be encouraged to adopt this approach, Jarrett said, as he "commended organisations like the Rural Support Organisation, successive governments and other agencies that have worked hard and continue to work hard to ensure that young girls have a fighting chance to be successful — even those young girls who get pregnant while in school are given an opportunity to continue their education."
Noting that young girls who get pregnant are often forced to temporarily or permanently halt educational pursuits while the males continue unheeded, Mr. Jarrett said, "This must stop. We must give our women and young girls an equal opportunity to move forward." He hailed Cabinet's recent approval of the "policy on the re-integration of adolescent mothers into the formal education system."
Pointing to the need for women to be discerning in the selection of partners and in negotiating sexual decisions, Mr. Jarrett said that "achieving the required level of confidence will not take place when popular media and entertainment continue to commoditise women, thereby reducing their overall value within the society."
He said that newspapers continue to objectify women and some corporate entities use women to promote products in a manner that is not wholesome and uplifting.
Jarrett said that "as a society we can make a change by insisting that our women be given the appropriate level of respect, by withholding our support for products which undermine women, by withholding our support for the music, by seeking to help shape a new value system within the country."
He called on corporate Jamaica to become partners with organisations like the Ena Thomas Memorial Trust, the Jamaica Cancer Society and others which are involved in programmes to improve sexual health awareness across the country.
"I believe we will get different outcomes when the focus is placed on women to make the radical change in society. Empower and respect our women…and bring new strength and stability to families across Jamaica", Jarrett declared.