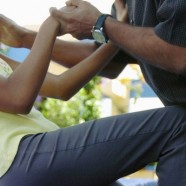 Janet Silvera | Jamaica Gleaner
WESTERN BUREAU:
Some 15 organisations are to engage their leadership and members to adopt a zero-tolerance approach to violence, especially violence against women and girls.
The group, which include a number of non-governmental organisations (NGOs), government agencies, political parties and the media, made the decision during a meeting chaired yesterday by Sandrea Falconer, minister with responsibility for information, at the Office of the Prime Minister (OPM).
The meeting was spurred by Prime Minister Portia Simpson Miller's expression of outrage over the rape Monday night of five females, including an eight-year-old, who yesterday remained hospitalised in stable condition.
All five, from one household, were brutally attacked and raped at gunpoint at their home in Irwin Point, St James.
Coming out of yesterday's meeting, the organisations all agreed to endorse a planned show-of-support protest action islandwide by Woman Inc tomorrow. This show of support will allow members of the public to express their outrage and condemnation of the continued attacks on mothers, sisters, daughters, nieces, nephews and brothers.
PROTEST ACTION
"The Government and Opposition encourage all well-thinking and progressive members of the public to join women's organisations and wear black on Friday and, at 10 a.m., stand at public places across Jamaica, including Half-Way Tree Clock Tower, in this protest action," stated a joint release issued by the OPM.
The organisations urged persons unable to attend to still participate in the protest by observing two minutes of silence at 10 a.m. in their workplaces and in their homes.
Falconer has directed the Bureau of Women's Affairs to deliver a summary of recommendations from groups that work to promote gender harmony, and that also support women, for deliberation at a meeting to be held on October 11 at Jamaica House.
Angry, disturbed and distressed by the rape, executive director of the Bureau of Women's Affairs, Faith Webster, said: "We have to find a way to take back our country, and the mothers will have to start turning in their sons."
Condemning the atrocity, Webster said women and children at times are no longer safe to carry out their regular activities as they are subject to violence on a daily basis.
She said: "This violence takes many forms: physical, emotional, sexual and psychological."
Another vocal advocate, Joyce Hewett, head of the public education and legal reform programme at Woman Inc, who was also in attendance at the meeting, said any long-term activity must have the ability to make an impact in changing the behaviour of the men who think it ok to go out and rape indiscriminately.
BREAK THE SILENCE
Like many in the country, Hewett said she was convinced that the time has come to inculcate a change of values in people who remain silent.
"The mothers, the fathers, the entire family, they are usually aware that the young girls and boys are being abused; they need to start speaking," she said.
The Woman Inc public education officer said Jamaicans needed to come out of that mindset and start thinking in terms of protecting the island's children.
"As a show of unity, we are asking everybody to just stand up and be counted in terms of sexual violence, show what our position must be, which is zero tolerance," she stated.
She is convinced that the new combined effort of the private sector, NGOs and Government would work this time around, as the pressure will remain.
"We have a unified approach."
Others persons and organisations in attendance were Opposition Spokesperson on Women and Gender Affairs Olivia 'Babsy' Grange; the Centre for the Investigation of Sexual Offences and Child Abuse, Women's Research and Outreach Centre, Sistren Theatre Collective, Office of the Children's Registry, the Press Association of Jamaica, the Catholic Schools Ministry, the Jamaica Household Workers Association, Women's Media Watch, Jamaicans for Justice, UWI Institute of Gender and Development Studies, the Child Development Agency, Young Women's Leadership Initiative, the People's National Party Women's Movement, the People's National Party Youth Organisation, the National Organisation of Women of the Jamaica Labour Party and the 51% Coalition.