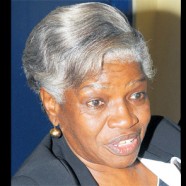 Nadine Wilson | All Woman, Jamaica Observer
AFTER more than 27 years of providing emergency shelter and counselling intervention for abused women, at least one executive member of WOMAN Inc is pleading with Jamaicans to put them out of business.
Joyce Hewett, who is the immediate past president and co-ordinator for advocacy and legal reform at the organisation, hopes there will come a time in the near future when they won't have to be admitting women who have been abused to the domestic violence shelter WOMAN Inc operates.
"When I say put us out of business, I mean let us change the behaviour as a nation so that we no longer have these awful incidences of domestic violence and sexual violence and sexual assault and sexual molestation," Hewett told All Woman recently.
She said at the opening of the shelter in 1984, the general desire was to see a similar centre established in all of the other parishes, however, she said, that vision has changed and now she would much rather that they are redundant.
"Unfortunately, we are nowhere near redundant; 27 years and still at it, just as relevant as we were when we looked at the situation in 1984 and said there was a dire need for social services in this country that address the needs of victims… because their lives were in danger from their intimate partners," she said.
WOMAN Inc is a private non-government organisation that provides assistance to victims of rape, incest, domestic violence and sexual harassment at the workplace. The organisation operates the only crisis shelter for women in the island, and a 24-hour counselling hotline where women can receive some level of intervention to cope with traumatic situations just by calling in.
The crisis shelter has provided a safe haven for countless women over the years. Unfortunately, Hewett said they are unable to meet the demand that greets them annually from women needing help. Currently the shelter can only host eight women at one time, although sometimes they will end up accommodating 12.
"We know it usually peaks around the Christmas holidays and also Easter which is another big holiday season. Many times you might have to turn a person away or find alternate accommodations for them because there is no room to put them," she said.
"We think that maybe a lot of it is because of the different demands that people have in terms of their own expectations; people are under stress. People are under economic stress and the degree of difficulty that people experience and the level of violence that is always kind of beneath the surface comes about when the added stress is on due to the different unmet demands and unmet expectations," she surmised.
Because it is an emergency shelter, women are generally allowed to stay for only two weeks so as to make space for others, however, each case is treated on its own merit and so a woman, based on her situation, could be allowed to stay for a longer period.
"Sometimes the women need a long transitional period of up to a year, but the shelter that we provide is based on emergency temporary accommodation to bring the woman out of the situation before she is injured or killed," Hewett said.
Counselling is usually offered to the women, who at times have to seek shelter for their children as well as they flee their abusive homes.
"More often than not the women come in the middle of the night; so the first thing she must do after she is made safe by the shelter house mother and given accommodation, there is an absolute mandate that the following day that she starts her sessions with the crisis centre counselling, so that crisis centre counselling that begins immediately is a part of her process on the road to recovery," she said.
Many women do not recover from their traumatic experiences, which is why Hewett prefers an end to violence. For this to happen, however, she feels there has to be some change in the attitudes and behaviours of abusers.